Product Description
China High Speed Cut to Length Line
Basic Info
Trademark:

CANWIN

HS Code:

84623120
Product Description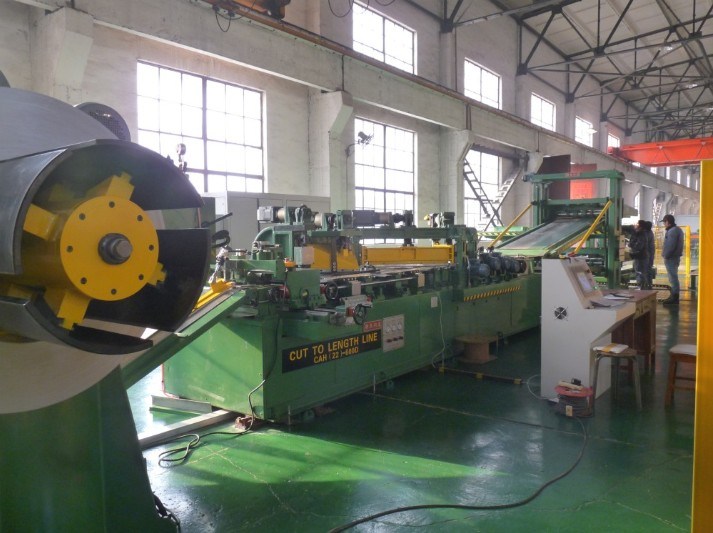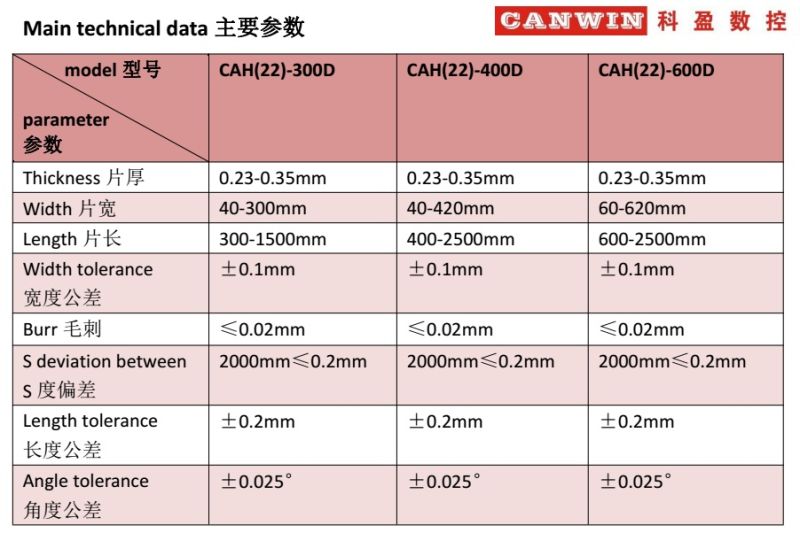 The key technology and innovations
1,Adopt the most high-end dedicated Simotion-D425/D435 controller in Simens motion controller.Voltage command type servo system,the maxium response speed to 4000000 pulses per second,the speed up to 240 meters per minute.It can realize the multi axis linkage,electronic cam control mode,high speed shearing.
2,Feeding machine adopts center positioning structure
The production line is to change the traditional feeding machine unilateral (fixed) positioning structure layout,use more reasonable advanced center positioning structure layout.The structure can effectively avoid the feeding and discharging unilateral partial load problem,greatly reduces the sheet into pointed phenomenon,to ensure product quality,improve the production line running stability.
3,Feeding motor/punch motor and shearing machine use linkage control cutter use Siemens servo motor drive.
O punch and V notch can through servo motor to realize the horizontal,verticle movement and in the movement can realize high speed cutting;
The machine use nine servo motos to control,and through Siemens Simotion-D435 movement to realize nine shaft linkage of control.
4,Buffer pithead technology
This technoligy use high accuracy ultrasonic non-contract Synchronous measurement technology,more material detection,feedfoward Synchronous feeding algorithm and other technology,ensure the production line of the high speed and stable operation.The application of this technology,through the servo motor and servo control system,conbined with the corresponding mechanical device,driving in the production line of punch,shears complete controllable cutter.The technology to solve the pneumatically driven can be cut to the users in equipment foundation construction cost saving.

GUANGDONG CANWIN AUTOMATIC EQUIPMENT CO., LTD.
Guangdong, China
Manufacturer/Factory, Trading Company
Gold Member
Since 2017
Audited Supplier
OEM/ODM Service
Factory Tour
Main Products:
Cut to Length Line, Slitting Line More


You Might Also Like
Punch Cut to Length Line
Cut to Length Line Machine
Silicon Steel Cut to Length Line
Punching Cut to Length Line
Slitting Line 5 Ton Capacity
Step Lap Cut to Length Line with O Punching
Economic Cut to Length Line
Automatic Slitting Line Machine 1250mm
Cut to Length Line 640mm
Punching Cut to to Length Line
Cut to Length Line Machine
Cut to Length Line
Economical Cut to Length Line
Punching and Swing Cutter Cut to Length Line
Cut to Length Line 150mm
Simple Type Cut to Length Line with PLC
Two Cutter and V Notch and O Punching Cut to Length Line
Automatic Cut to Length Line - Two Cutter O Punch and V Notch Ctl
Cutting Machine Two Cutter and V-Notch Cut-to-Length Line
Automatic Two Cutter and Two V Notch Cut to Length Line Product Groups
Cut-To-Length Line
Slitting Line
CATALYTIC INCINERATION SYSTEM