Basic Info
Basic Info Model NO.: 28,
Product Description
China High Frequency Welding Pipe Mill, Pipe Making Machine
Basic Info
Model NO.:
28, 32, 50, 60, 76, 90, etc
Cutter:
Computerized Controlled Saw Cutter
Cooling:
Water Tank
Shipment:
in Hq Containers
Warranty:
One Year
Trademark:
Haoshuo
Transport Package:
Seaworthy Packing
Specification:
CE, ISO
Origin:
Jiangsu, China
HS Code:
85152110
Product Description
High Frequency Wedling Pipe Making Machine for Steel Pipe Production1.1 Summary:
This equipment is specially used for producingΦ 13-Φ 50.8mm(1/2'' 2''), δ 0.6-2.0mm high-frequency straight seam welded pipe and corresponding square pipe and special-shaped pipe(δ ≤ 1.5mm). The composition of equipment is from uncoiler to fixed length cutting saw. Rolling speed can be adjusted correspondingly within suitable range of pipe diameter and wall thickness.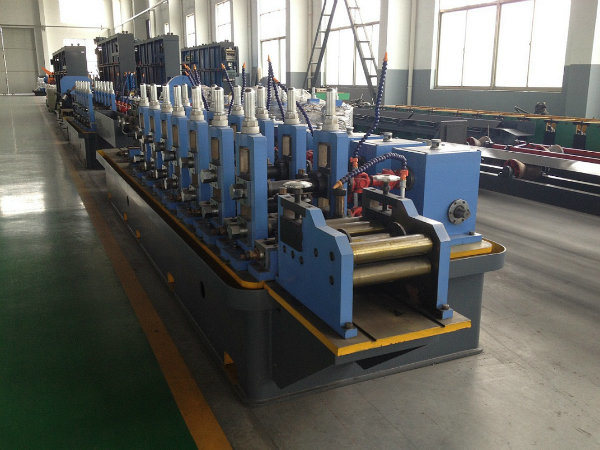 1.2 Applicable material:
(1)Hot or cold-rolled steel strip (As per GB700-88 or GB1591-88)
(2)Material: Low-carbon steel, low alloy steelδ S≤ 345Mpa, δ B≤ 610Mpa
(3)The thickness of steel strip: 0.6-2.0mm (As per GB708-88)
(4)The width of steel strip: 40-160mm
(5)I. D. Of steel coil: Φ 450-Φ 550mm
(6)O. D. Of steel coil: Φ 800-Φ 1200mm
(7)Maximum weight coil: 1000kgs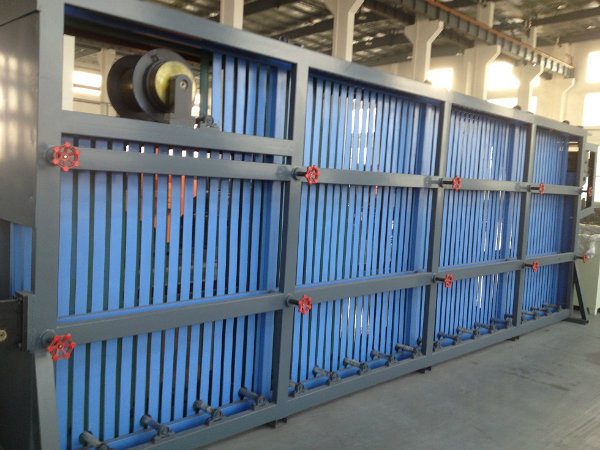 1.3 Dimension range of processing steel pipe:
(1)O. D.: Φ 13-Φ 50.8mm(1/2'' 2'')
(2)Wall thickness: 0.6-2.0mm (square pipe and special-shaped pipeδ ≤ 1.5mm)
(3)Length: 4-8M
1.3 Milling speed
: 20-90M/min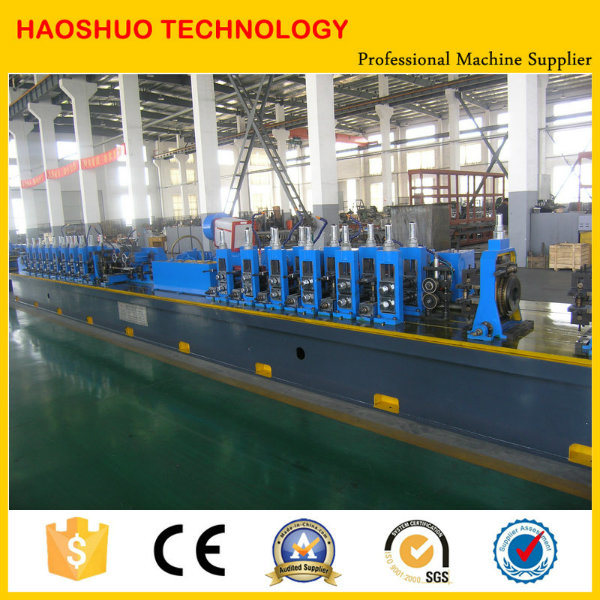 Work Flow:
Uncoiling -- shearing and butt welding -- material accumulating -- flattening forming system -- high frequency induction welding machine -- inside and outside burr removing frame -- water cooling system -- sizing system -- leveling system -- speed testing -- Turkish frame -- saw cutting -- running out table
Main components:
1 Uncoiler
2 Accumulator
3 Shearing and butt welding machine
4 Forming machine
5 Roller System of Forming
6 Seam Guide
7 High Frequency Induction Welding Machine
8 Roller System for Moving
9 Burr Removing Frame(Inside and outside)
10 Water cooling system
11 Sizing machine
12 Roller System of Leveling
13 Speed Testing Wheel
14 Turkish Frame
15 Auto flying saw controlled by Computer
16 Run-out table
17 Electric control Equipment
18High frequency welding machine
Pipe mill specs
Machine
Model Pipe Diameter Pipe Size Thickness Speed Main
Power Welding
PowerWG-16Φ0.3~ Φ1.0inch
(Φ8mm~Φ25mm)7?mm
20?0mm0.3 ~ 1.2mm100m/Min22Kw60KwWG-25Φ0.3~ Φ1.2inch
(Φ8mm~Φ32mm)7?mm
25?5mm0.3 ~ 1.5mm90m/Min37Kw100KwWG-28Φ0.5~ Φ2.0inch
(Φ13mm~Φ50mm)10?0mm 40?0mm0.5 ~ 1.8mm90m/Min75Kw100KwWG-32Φ0.5~ Φ2.5inch
(Φ13mm~Φ63.5mm)10?0mm 50?0mm0.5 ~ 1.8mm90m/Min110Kw150KwWG-50Φ0.8~ Φ3.0inch
(Φ20mm~Φ76mm)16?6mm 60?0mm0.7 ~ 3.0mm80m/Min132Kw200KwWG-60Φ1.2~ Φ4.0inch
(Φ32mm~Φ102mm)25?5mm
80?0mm1.0~ 3.5mm70m/Min160Kw200KwWG-76Φ1.0~ Φ5.0inch
(Φ25mm~Φ127mm)20?0mm
100?00mm1.0~ 3.5mm70m/Min185Kw200KwWG114Φ1.6~ Φ5.0inch
(Φ40mm~Φ130mm)35?5mm
100?00mm1.5~ 5.0mm60m/Min160Kwx2400KwWG155Φ2.0~ Φ6.0inch
(Φ50mm~Φ155mm)40?0mm
120?20mm1.5~ 5.0mm60m/Min160Kwx2400KwWG165Φ2.0~ Φ7.6inch
(Φ50mm~Φ195mm)40?0mm
150?50mm2.0~ 6.0mm45m/Min200Kwx2500KwWG219Φ3.5~ Φ8.60nch
(Φ89mm~Φ219mm)70?0mm
170?70mm4.0~ 8.0mm40m/Min200Kwx2600KwWG273Φ4.0~ Φ10.7nch
(Φ100mm~Φ273mm)80?0mm
215?15mm4.0~ 12mm25m/Min320Kwx2800Kw