Basic Info
Basic Info Model NO.: JTXE
Product Description
China High Precision Silicon Steel Cut to Length Line
Basic Info
Model NO.:
JTXE-LL-400ZX
PLC:
Mitsubishi, or Siemens
Certificate:
ISO
Warranty:
1 Year
After-Sell Service:
Yes
Trademark:
XIEER
Transport Package:
Seaworthy Packing
Origin:
Jiangyin
HS Code:
84623920
Product Description
JTXE-LL-400ZX Centralized Positioning Cut to Length Line
Cut to Length Line Process Introduction
Two cut and two punch centralized positioning step-lap cut to length line has the following advantages:center positioning feeds, the feeding roller is not easy to wear and the quality is light, small inertia, high speed, feeding the material accurately. In the aspect of two ' cut ' , the cut 1 was fixed at 45 DEG and the cut 2 can switch between 90 and 135 DEG, it has easy to adjust the shear angle. The discharging machine makes the silicon steel sheet convenient to receive the material after the punching and cutting through the telescopic platform.
The Finished Product Picture of Centralized Positioning Cut to Length Line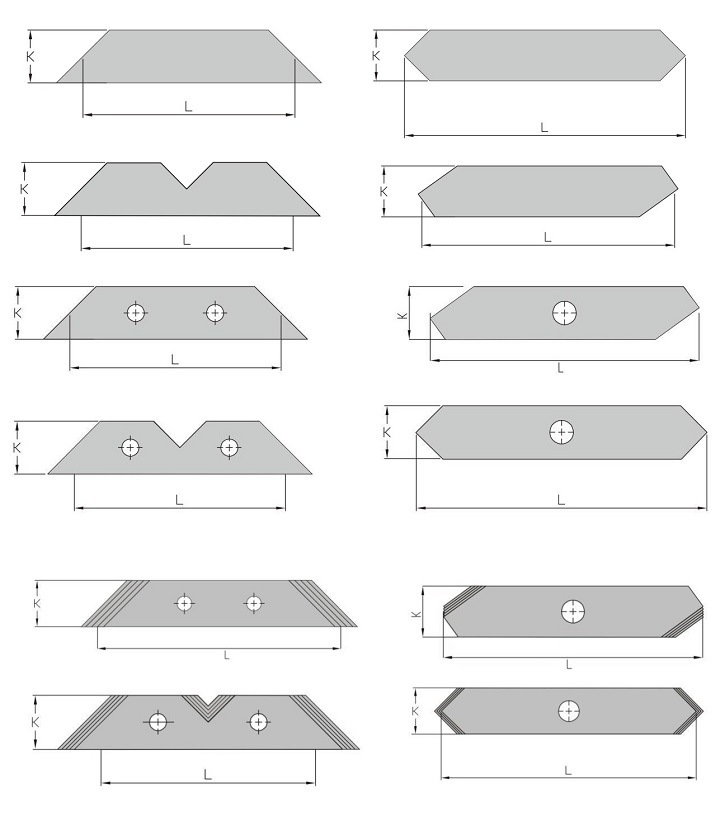 High Speed High Precision Cut to Length Line Parameters
1,High Speed High Precision Slitting Line
Model Name
JT1250
Cutting Thickness(mm)
0.23-0.5
Cutting Width(mm)
40-1200
Coil Weight(t)
5
Feeding Speed(m/min)
80-120
Straightness Deviation of Each Edge(mm/m)
0.1
Cutting Angle Accuracy DEG
?.025
Band Width Accuracy(mm)
?.1
Total Motor Power(KW)
55
2,Precision high speed cut-to-length linenonstop cutting


Two cutting two punching(ordinary type)
Model Name
JTXE-LL-300
JTXE-LL-400
Cutting Thickness(mm)
0.23-0.35
0.23-0.35
Cutting Width(mm)
40-300
40-400
Cutting Length(mm)
350-9999
350-9999
Feeding Speed(m/min)
180
180
Cutting Burr(mm)
≤0.02
≤0.02
Cutting Angle Accuracy DEG
?.025
?.025
Cutting Length Accuracy(mm)
?.1
?.1
Total Motor Power(KW)
15
16.5
Two cutting two punching(step type)
Model Name
JTXE-LL-300Z
JTXE-LL-400Z
Cutting Thickness(mm)
0.23-0.35
0.23-0.35
Cutting Width(mm)
40-300
40-400
Cutting Length(mm)
350-9999
350-9999
Feeding Speed(m/min)
180
180
Cutting Burr(mm)
≤0.02
≤0.02
Cutting Angle Accuracy DEG
?.025
?.025
Cutting Length Accuracy(mm)
?.1
?.1
Total Motor Power(KW)
20
21.5
Two cutting two punching(centralized positioning)
Model Name
JTXE-LL-400ZX
JTXE-LL-600ZX
Cutting Thickness(mm)
0.23-0.35
0.23-0.35
Cutting Width(mm)
40-400
60-600
Cutting Length(mm)
350-9999
350-9999
Feeding Speed(m/min)
180
180
Cutting Burr(mm)
≤0.02
≤0.02
Cutting Angle Accuracy DEG
?.025
?.025
Cutting Length Accuracy(mm)
?.1
?.1
Total Motor Power(KW)
24
26
3,Precision high speed cut-to-length linenonstop cutting


Two cutting>Model Name

JTXE-X-300

JTXE-X-400

JTXE-X-600

Cutting Thickness(mm)

0.23-0.35

0.23-0.35

0.23-0.35

Cutting Width(mm)

40-300

40-400

60-600

Cutting Length(mm)

350-9999

350-9999

350-9999

Feeding Speed(m/min)

180

180

180

Cutting Burr(mm)

≤0.02

≤0.02

≤0.02

Cutting Angle Accuracy DEG

?.025

?.025

?.025

Cutting Length Accuracy(mm)

?.1

?.1

?.1

Total Motor Power(KW)

12

13.5

13.5


4,Center Post Silicon Steel Cut to Length Line(step type)

Model Name

JTXE-ZZ-300Z

JTXE-ZZ-400Z

Cutting Thickness(mm)

0.23-0.35

0.23-0.35

Cutting Width(mm)

40-300

40-400

Cutting Length(mm)

150-9999

150-9999

Feeding Speed(m/min)

180

180

Cutting Burr(mm)

≤0.02

≤0.02

Cutting Angle Accuracy DEG

?.025

?.025

Cutting Length Accuracy(mm)

?.1

?.1

Total Motor Power(KW)

14

14



5,Electric Reactor Silicon Steel Cut to Length Line

Model Name

JTXE-300

JTXE-400

JTXE-600

Cutting Thickness(mm)

0.23-0.5

0.23-0.5

0.23-0.5

Cutting Width(mm)

40-300

40-400

40-600

Cutting Length(mm)

10-9999

10-9999

10-9999

Feeding Speed(m/min)

180

180

180

Cutting Burr(mm)

≤0.02

≤0.02

≤0.02

Cutting Angle Accuracy DEG

?.025

?.025

?.025

Cutting Length Accuracy(mm)

?.05

?.05

?.05

Total Motor Power(KW)

10

10

12



Centralized Positioning Cut to Length Line Working Process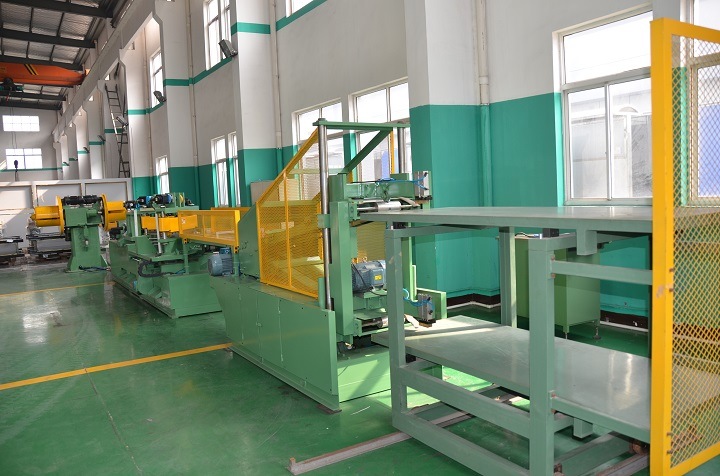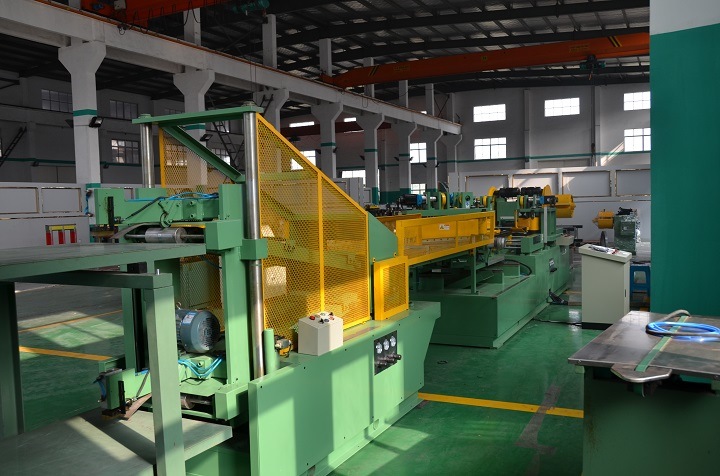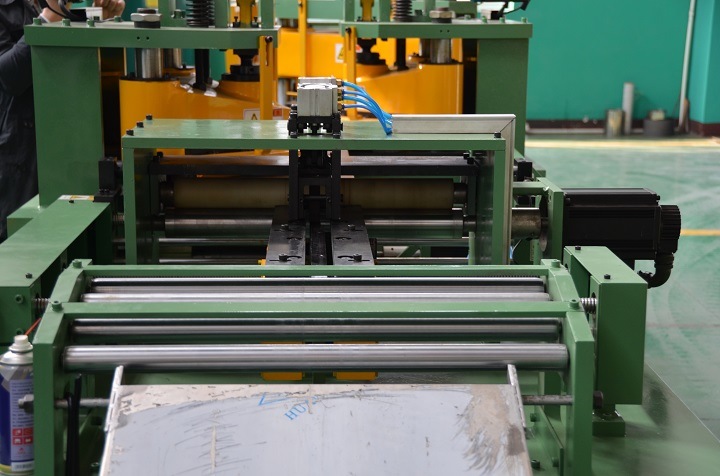 Cut to Length Line Certificate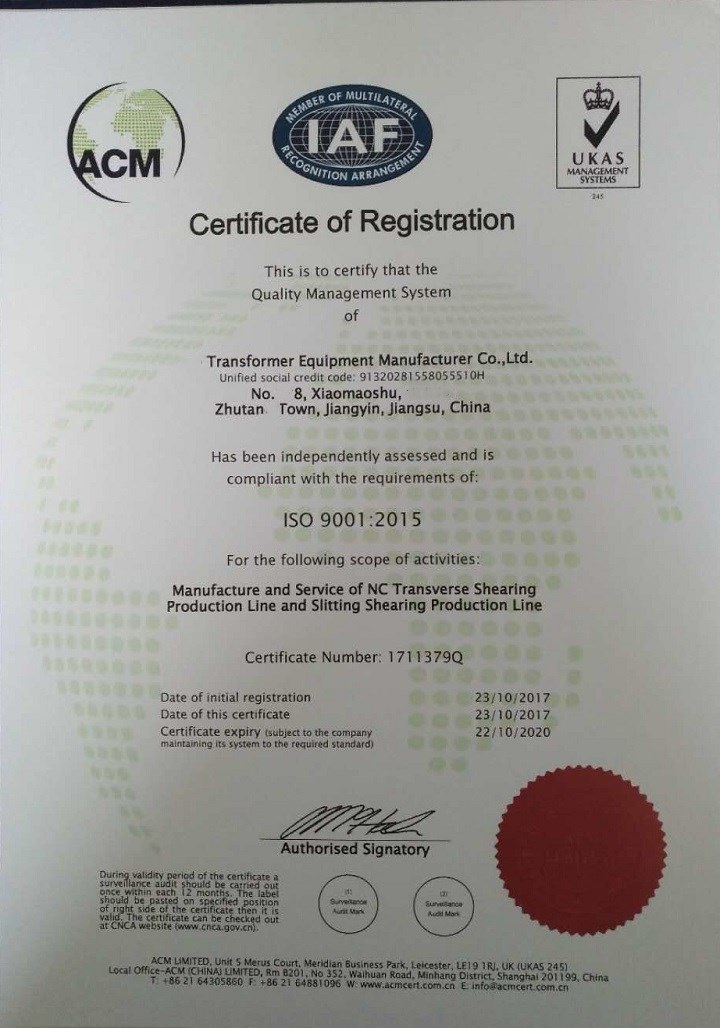 Cut to Length Line Packaging