Basic Info
Basic Info Model NO.: JTXE
Product Description
China Silicon Steel Core Transformer Lamination Cut to Length Line
Basic Info
Model NO.:
JTXE-LL-300
PLC:
Mitsubishi, or Siemens
Certificate:
ISO
Warranty:
1 Year
After-Sell Service:
Yes
Trademark:
XIEER
Transport Package:
Seaworthy Packing
Specification:
12*2.5m
Origin:
Jiangyin
HS Code:
84623920
Product Description
JTXE-LL-300 Transformer Steel Core Cut to Length Line
Cut to Length Line Process Introduction
Two shearing two punching silicon steel cutting line with step-lap is an automatic production line for the silicon steel sheet shearing, consists of the following parts:Uncoiler, Feed buffer, Feeder, Punch parts, Shear parts, Conveyor, Material machine, Pneumatic system, Electronic control system.
Cut to Length Line Composition
1,Single head hydraulic material rack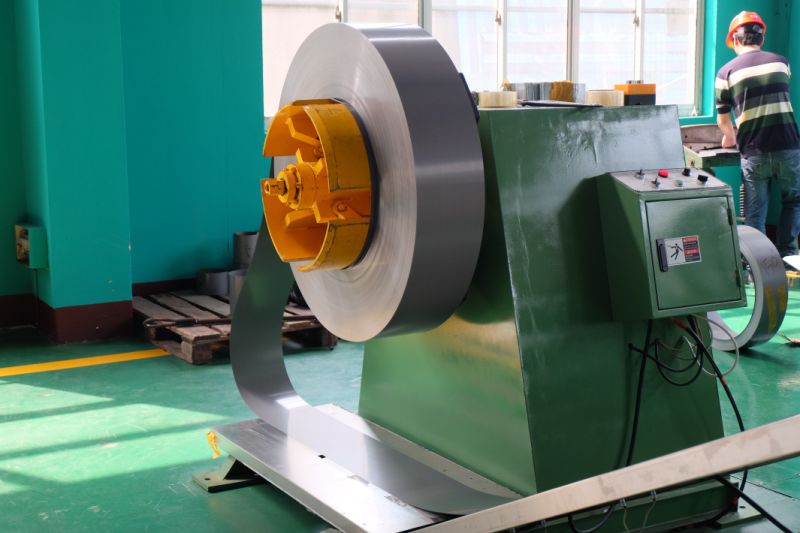 Coil inner diameter(mm)
495-510
Coil max outer diameter(mm)
1200
Expand scope of the expansion head(mm)
470-520
Coil max width(mm)
420
Single head max loading weight(t)
1.5
Function:the opening head is composed of four flaps,automatically tighten or loosen the coil.According to feeding speed,synchronous non-pole speed adjustment,realize the open volume function.
2,No pit slope material guide equipment
Function:adopt slope buffer guide,it consists of an inclined guide plate and a detection switch. The test switch is installed>3,Feeding material equipment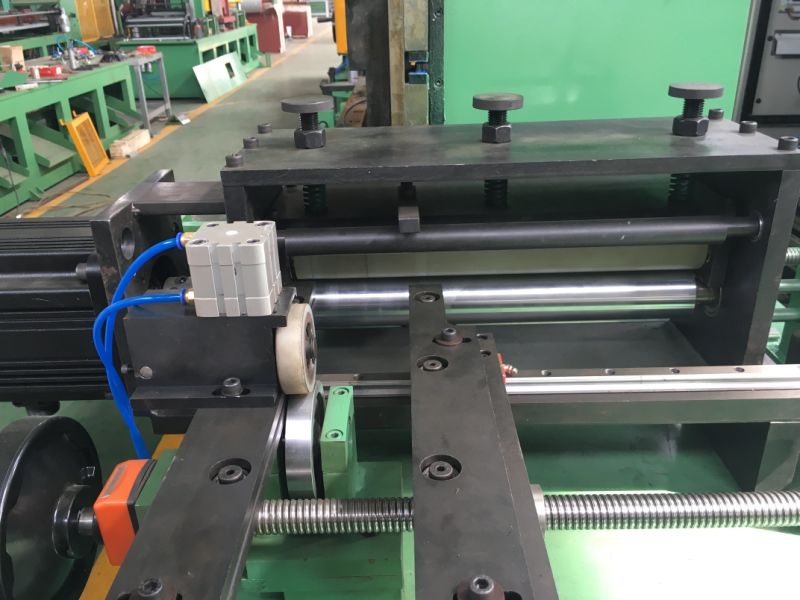 Double roll structure,the equipment is composed of a fixed scale roller,servo motor,synchronous belt wheel reducer,base and so>Measuring roll:2, down roll is made of Gcr15 steel alloy,after adjustment ,quenching treatment,polishing after grinding ,upper roller outer round polyurethane.
Control:Taida servo drive
upper roller can manually control lifting up and down.
4,Punching section
A set of V shape punching, a set of hole shape punching
O shape punching is driven by the servo motor directly connected with the crankshaft to drive the upper die down to the O shape hole.
Hole diameter 10-20
V shape punching is driven by the servo motor belt reducer to drive the upper die from the top down to make the V-shape.
V shape punching can realize stepping function by inwardly adjusting the motor.
5,Cutting section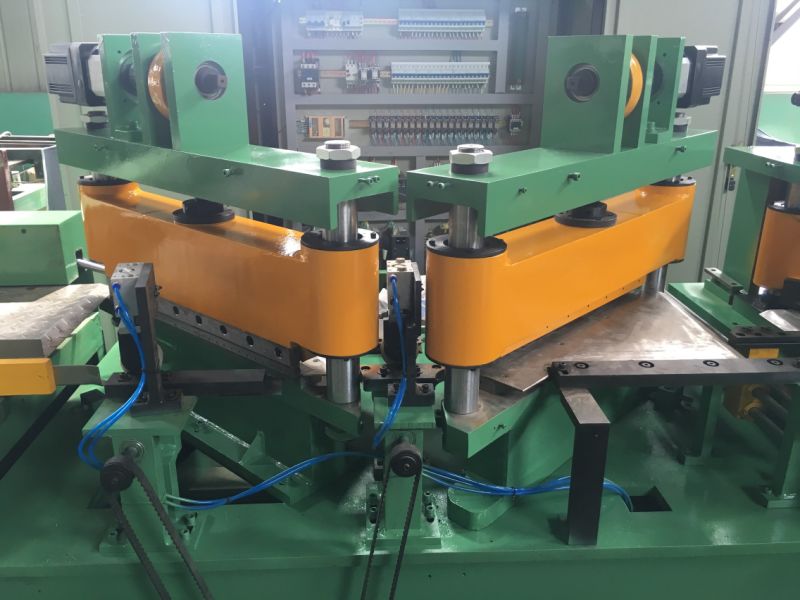 Cutting blade material:hard steel alloy
The cutting mode is driven by the servo motor belt reducer to drive the crankshaft.
Function:according to the drawing requirement,cut the edge pieces,yokes,middle column and so>6,Conveyor
Function:the conveyor is driven by a AC1.5kw motor to drive the steel core strip from the punching section, and the cutting section, and shears are cut off and then transferred to the transfer device of the material receiving mechanism.

7,Material sorting device
Distributing device:the different shape of the strip is transmitted to different pressure feeding devices through the opening and closing of the deviding plate.
Pressing device:automatically separate the two kinds of strip shape by pneumatic tensioning device.

8,Pneumatic system
Provide power to the cylinder of production line

9,Electronic control system and operation system
Parameters
1,High Speed High Precision Slitting Line
Model Name
JT1250
Cutting Thickness(mm)
0.23-0.5
Cutting Width(mm)
40-1200
Coil Weight(t)
5
Feeding Speed(m/min)
80-120
Straightness Deviation of Each Edge(mm/m)
0.1
Cutting Angle Accuracy DEG
?.025
Band Width Accuracy(mm)
?.1
Total Motor Power(KW)
55
2,Precision high speed cut-to-length linenonstop cutting


Two cutting two punching(ordinary type)
Model Name
JTXE-LL-300
JTXE-LL-400
Cutting Thickness(mm)
0.23-0.35
0.23-0.35
Cutting Width(mm)
40-300
40-400
Cutting Length(mm)
350-9999
350-9999
Feeding Speed(m/min)
180
180
Cutting Burr(mm)
≤0.02
≤0.02
Cutting Angle Accuracy DEG
?.025
?.025
Cutting Length Accuracy(mm)
?.1
?.1
Total Motor Power(KW)
15
16.5
Two cutting two punching(step type)
Model Name
JTXE-LL-300Z
JTXE-LL-400Z
Cutting Thickness(mm)
0.23-0.35
0.23-0.35
Cutting Width(mm)
40-300
40-400
Cutting Length(mm)
350-9999
350-9999
Feeding Speed(m/min)
180
180
Cutting Burr(mm)
≤0.02
≤0.02
Cutting Angle Accuracy DEG
?.025
?.025
Cutting Length Accuracy(mm)
?.1
?.1
Total Motor Power(KW)
20
21.5
Two cutting two punching(centralized positioning)
Model Name
JTXE-LL-400ZX
JTXE-LL-600ZX
Cutting Thickness(mm)
0.23-0.35
0.23-0.35
Cutting Width(mm)
40-400
60-600
Cutting Length(mm)
350-9999
350-9999
Feeding Speed(m/min)
180
180
Cutting Burr(mm)
≤0.02
≤0.02
Cutting Angle Accuracy DEG
?.025
?.025
Cutting Length Accuracy(mm)
?.1
?.1
Total Motor Power(KW)
24
26
3,Precision high speed cut-to-length line nonstop cutting


Two cutting>Model Name

JTXE-X-300

JTXE-X-400

JTXE-X-600

Cutting Thickness(mm)

0.23-0.35

0.23-0.35

0.23-0.35

Cutting Width(mm)

40-300

40-400

60-600

Cutting Length(mm)

350-9999

350-9999

350-9999

Feeding Speed(m/min)

180

180

180

Cutting Burr(mm)

≤0.02

≤0.02

≤0.02

Cutting Angle Accuracy DEG

?.025

?.025

?.025

Cutting Length Accuracy(mm)

?.1

?.1

?.1

Total Motor Power(KW)

12

13.5

13.5


4,Center Post Silicon Steel Cut to Length Line(step type)

Model Name

JTXE-ZZ-300Z

JTXE-ZZ-400Z

Cutting Thickness(mm)

0.23-0.35

0.23-0.35

Cutting Width(mm)

40-300

40-400

Cutting Length(mm)

150-9999

150-9999

Feeding Speed(m/min)

180

180

Cutting Burr(mm)

≤0.02

≤0.02

Cutting Angle Accuracy DEG

?.025

?.025

Cutting Length Accuracy(mm)

?.1

?.1

Total Motor Power(KW)

14

14



5,Electric Reactor Silicon Steel Cut to Length Line

Model Name

JTXE-300

JTXE-400

JTXE-600

Cutting Thickness(mm)

0.23-0.5

0.23-0.5

0.23-0.5

Cutting Width(mm)

40-300

40-400

40-600

Cutting Length(mm)

10-9999

10-9999

10-9999

Feeding Speed(m/min)

180

180

180

Cutting Burr(mm)

≤0.02

≤0.02

≤0.02

Cutting Angle Accuracy DEG

?.025

?.025

?.025

Cutting Length Accuracy(mm)

?.05

?.05

?.05

Total Motor Power(KW)

10

10

12


Cut to Length Line Working Pictures


Cut to Length Line Quality and After-sell Service
1,Within>
Metal flashing