Basic Info
Basic Info Model NO.: ctl
Product Description
China Cut to Length Production Line
Basic Info
Model NO.:
ctl
Product Description
cut to length line is used to cut hot-rolled steel coil, stainless steel coil, aluminum coil, cut into various specifications of the size, this line also can have trimming function, make the width size meet customer requirements.
This line is composed of entry coil car, uncoiler, material-feeding device, simple leveler, transfer bridge, trimming shearer(optional), leveler, setting length device, plate feeder, cutting device, transfer table, thrower stacking device, Hydraulic system and electric control system.
This production line hydraulic system main parts adopt Germany BOSCH-REXROT components and seals, electrical control adopt Japan Mitsubishi PLC program controller and Taiwan WEINVIEW touch screen to control all functions, main motor of leveler adopts high power DC motor, DC controller adopts ETD products, which has high degree of automation, high shearing precision, stable and reliable performance, easy operation and maintenance, etc.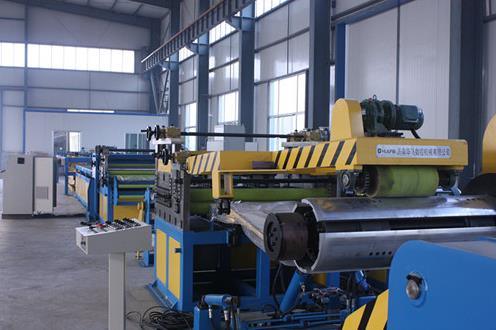 MAIN TECHNICAL DATA:
Model No.
Parametercutting thickness/mmCoil width mm
Cutting precision/set length mmCutting speed pcs/min/set lengthCoil weight T
Stacking length mm
RemarkHFCL-6?0001-6500-2000?.8/200010pcs/min/200030T500-6000Technical data, configuration can according to customer requirement.HFCL-8?0002-8500-2000?.5/60003pcs/min/600030T500-8000HFCL-10?0002-10500-2000?.5/60003pcs/min/600030T500-10000HFCL-12?0003-12500-2000?.5/60003pcs/min/600035T500-12000HFCL-16?2004-16500-2200?.5/60003pcs/min/600035T500-15000HFCL-20?2004-22500-2200?.5/60003pcs/min/600035T500-15000